Beginning the Exploration of the Universe with Gravitational Waves
The recent observation of gravitational waves from the merger of binary black holes opens a new way to learn about the universe as well as to test General Relativity in the limit of strong gravitational interactions – the dynamics of massive bodies traveling at relativistic speeds in a highly curved space-time. The lecture will describe some of the difficult history of gravitational waves proposed exactly 100 years ago. The concepts used in the instruments and the methods for data analysis that enable the measurement of gravitational wave strains of 10-21 and smaller will be presented. The results derived from the measured waveforms, their relation to the Einstein field equations and the astrophysical implications are discussed. The talk will end with our vision for the future of gravitational wave astronomy.
The viewgraphs for this talk are posted at: https://emvogil-3.mit.edu/~weiss/osa2017/osa_2017.pptx
A facebook video of the talk is at: https://www.facebook.com/opticalsociety/videos/10159610140830492/
Rainer Weiss, MIT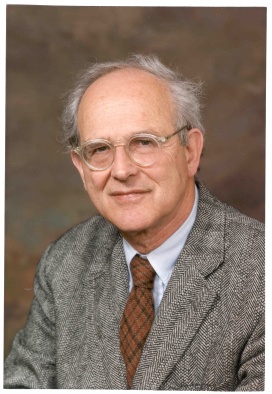 Rainer Weiss, Born Sept 29, 1932 Berlin, Germany, MIT BS 1955, PhD 1962, Tufts University Physics faculty 1960-1962, Post doc Princeton 1962-1964, MIT Physics faculty 1964-2001, emeritus 2001---, Adjunct Professor of Physics LSU 2001--- . Primary areas of research: Atomic clocks, Cosmic background radiation measurements, Gravitational wave detection.
Reservations:
Dinner & Meeting reservations must be made by 6 PM, Thursday October 5, 2017. We can no longer accept dinner reservations after this cutoff.
Meeting-Only registrations are requested by Monday October 9, 2017. Walk-ins are acceptable for the meeting-only.
Please make online reservations via the "Click to signup" button above.
Reservations may also be left on the answering machine at (617) 454-4693. We no longer have an email address for reservations due to SPAM.
When making reservation requests, please provide the following information:
DINNER AND MEETING or meeting only
Name(s) and membership status
Daytime phone number where you can be reached (in case of change or cancellation)
Location:
Rebeccas Cafe (Located in back of the office complex)
275 Grove Street
Auburndale, MA 02466
(617) 969-3282
Networking—5:45 PM, Dinner—6:45, Meeting—7:30 PM.
Menu:
Vegetarian option available on request
Dinner Prices:
Register on/before
DINNER Reservation Date
Late Reservations
Based on Availability
NES/OSA Members and their guests
$30.00 each
$35.00
Non-members
$35.00 (See NOTE Below)
$40.00
Students
$5.00
$5.00
Post-Docs
$15.00
$15.00
NOTE: The NES/OSA has not changed dinner prices in several years but has been facing higher costs. We have increased the cost of dinner by $5 this year. We will try to accommodate late reservations but cannot not guarantee that a meal will be available.
General Information on NES/OSA Meetings
Cancellations and No-shows:
If the meeting must be cancelled for any reason, we will try to call you at the phone number you leave with your reservation. Official notice of cancellation will be on our answering machine.
We have to pay for the dinners reserved as of the Tuesday before the meeting, so no-shows eat into our cash reserve. If you will not be able to attend, please let us know as early as possible. Otherwise, no-shows will be billed.
Membership Rates:
| | |
| --- | --- |
| Regular members | $15.00 |
| Student members | free |
NOTE: The extra $5.00 of the non-member dinner fee can be used toward membership dues if the nonmember joins and pays dues for the current year at the meeting.