Computational Imaging Through Scattering
Imaging through scattering media has long been a challenge, as scattering corrupts measurements in a non-invertible way. Using near-visible wavelengths to image through scattering media can realize broad applications in bio-medical and industrial imaging. It provides many advantages, such as optical contrast, non-ionizing radiation and availability of fluorescent tags. In this talk I'll discuss recent techniques that were developed to overcome and use scattering in order to recover scene parameters. Our computational imaging approach is based on an ultrafast time-resolved measurement of light transport. The measurement provides high-dimensional data that is used in an algorithmic framework to computationally invert the scattering. I'll demonstrate this approach in two different scenarios: first, a method to recover the location of fluorescent markers hidden behind turbid layer and classify them based on florescence lifetime analysis; second, a method to recover a scene hidden behind a thick tissue phantom. The talk is self-contained and no prior knowledge is required.
Guy Satat, MIT Media Lab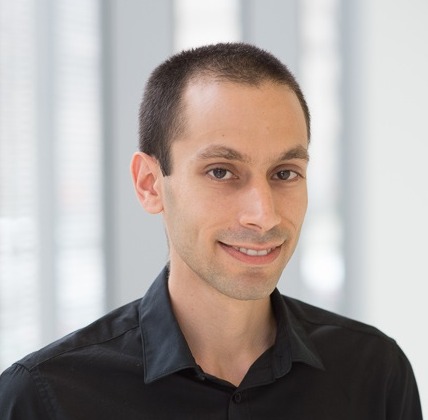 Guy Satat is a PhD student and research assistant in the Camera Culture Group at the MIT Media Lab, under the supervision of prof. Ramesh Raskar. His interests include imaging through scattering, time-resolved imaging, compressive imaging, and medical imaging. He graduated with honors from the Technion - Israel Institute of Technology, where he obtained a BSc in both Electrical Engineering and Physics as part of the Technion Excellence Program.
Reservations:
Dinner & Meeting reservations must be made by 6 PM, May 15, 2017. We can no longer accept dinner reservations after this cutoff.
Meeting-Only registrations are appreciated by May 17, 2017, the day before the meeting. Walk-ins are acceptable for the meeting-only.
Please make online reservations via the "Click to signup" button above.
Reservations may also be left on the answering machine at (617) 454-4693. We no longer have an email address for reservations due to SPAM.
When making reservation requests, please provide the following information:
DINNER AND MEETING or meeting only
Name(s) and membership status
Daytime phone number where you can be reached (in case of change or cancellation)
Location:
Rebeccas Cafe (Located in back of the office complex)
275 Grove Street
Auburndale, MA 02466
(617) 969-3282
Networking—5:45 PM, Dinner—6:45, Meeting—7:30 PM.
Menu:
Vegetarian option available on request
Dinner Prices:
Register on/before
DINNER Reservation Date
Late Reservations
Based on Availability
NES/OSA Members and their guests
$30.00 each
$35.00
Non-members
$35.00 (See NOTE Below)
$40.00
Students
$5.00
$5.00
Post-Docs
$15.00
$15.00
NOTE: The NES/OSA has not changed dinner prices in several years but has been facing higher costs. We have increased the cost of dinner by $5 this year. We will try to accommodate late reservations but cannot not guarantee that a meal will be available.
General Information on NES/OSA Meetings
Cancellations and No-shows:
If the meeting must be cancelled for any reason, we will try to call you at the phone number you leave with your reservation. Official notice of cancellation will be on our answering machine.
We have to pay for the dinners reserved as of the Tuesday before the meeting, so no-shows eat into our cash reserve. If you will not be able to attend, please let us know as early as possible. Otherwise, no-shows will be billed.
Membership Rates:
| | |
| --- | --- |
| Regular members | $15.00 |
| Student members | free |
NOTE: The extra $5.00 of the non-member dinner fee can be used toward membership dues if the nonmember joins and pays dues for the current year at the meeting.