NES/OSA Promoting STEM with Optics
In addition to professional development, educational outreach is one of the key initiatives of the NES/OSA. We have been active in the promotion of STEM (Science, Technology, Engineering and Math) since the mid-1970s with the goal of fostering excitement about science and bringing awareness of optics to children. Some of the programs in which we have been engaged include bringing optics into classrooms (with the famous optics suitcase), student scholarships, teacher grants, and volunteering in community science events.
NES/OSA currently participates in several community programs from STEM Expos to Science Fairs with combined audiences of several thousand students annually, awarded the OSA Excellence Award for outreach last year. Especially in recent years, we have increased our commitment with participation in a growing number of events. This could not have been accomplished without the committed NES/OSA members who have generously volunteered their time and knowledge at these events. As they will tell you, introducing optics to young minds is very rewarding.
Our meeting this month will divert somewhat from the normal format, as we would like to invite our members and the general public to learn more about our outreach efforts and experience some of the tools that we use to explore optics in everyday life. There will be a short presentation on STEM efforts in the community and a call for individuals to join the effort. Many of the demonstrations that we use at STEM events will also be on display. Members familiar with the demo materials will be available to describe how they are used explain fundamental optics ideas to children at various ages. We also encourage attendees to share ideas with us!
This will also be a great opportunity to bring family members interested in increasing their optics knowledge (and who may be curious about these NES/OSA meetings we keep sneaking off to on Thursday nights) .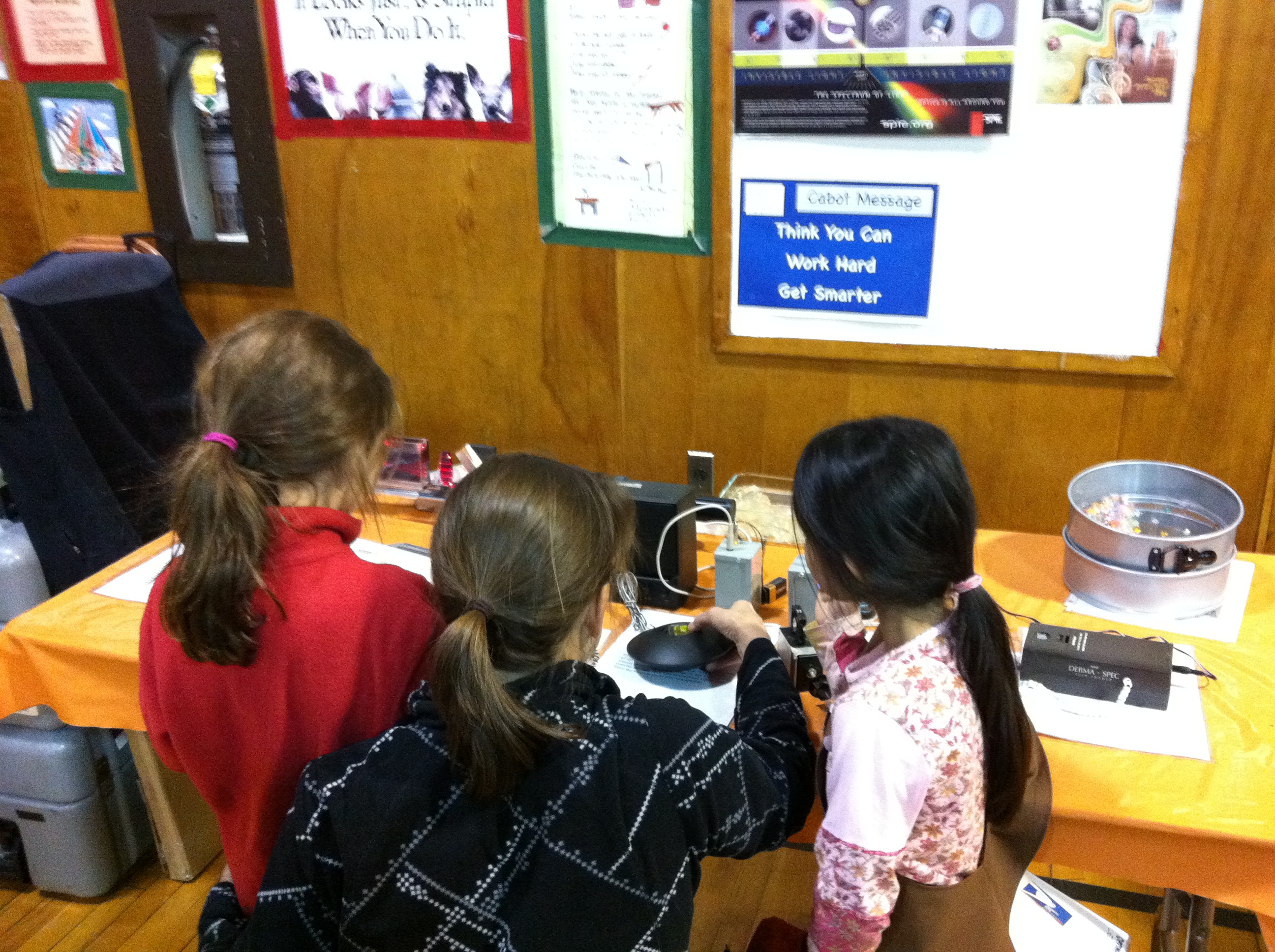 Reservations:
Dinner & Meeting reservations must be made by 6 PM, Monday February 13. We can no longer accept dinner reservations after this cutoff.
Meeting-Only registrations are appreciated by Wedensday February 15. Walk-ins are acceptable for the meeting-only.
Please make online reservations via the "Click to signup" button above.
Reservations may also be left on the answering machine at (617) 454-4693. We no longer have an email address for reservations due to SPAM.
When making reservation requests, please provide the following information:
DINNER AND MEETING or meeting only
Name(s) and membership status
Daytime phone number where you can be reached (in case of change or cancellation)
Location:
Rebeccas Cafe (Located in back of the office complex)
275 Grove Street
Auburndale, MA 02466
(617) 969-3282
Networking—5:45 PM, Dinner—6:45, Meeting—7:30 PM.
Menu:
Vegetarian option available on request
Dinner Prices:
Register on/before
DINNER Reservation Date
Late Reservations
Based on Availability
NES/OSA Members and their guests
$30.00 each
$35.00
Non-members
$35.00 (See NOTE Below)
$40.00
Students
$5.00
$5.00
Post-Docs
$15.00
$15.00
NOTE: The NES/OSA has not changed dinner prices in several years but has been facing higher costs. We have increased the cost of dinner by $5 this year. We will try to accommodate late reservations but cannot not guarantee that a meal will be available.
General Information on NES/OSA Meetings
Cancellations and No-shows:
If the meeting must be cancelled for any reason, we will try to call you at the phone number you leave with your reservation. Official notice of cancellation will be on our answering machine.
We have to pay for the dinners reserved as of the Tuesday before the meeting, so no-shows eat into our cash reserve. If you will not be able to attend, please let us know as early as possible. Otherwise, no-shows will be billed.
Membership Rates:
| | |
| --- | --- |
| Regular members | $15.00 |
| Student members | free |
NOTE: The extra $5.00 of the non-member dinner fee can be used toward membership dues if the nonmember joins and pays dues for the current year at the meeting.