Mid-infrared photothermal imaging in the fingerprint region
Mid-infrared spectral imaging in the fingerprint region (at wavelengths ~5µm and longer) can reveal characteristic details about molecular compounds and secondary structure of chemicals and biomolecules. In this talk, the development of a contact-less, non-destructive mid-infrared imaging system with high sensitivity and specificity based on photothermal spectroscopy will be presented. First, the development of low-noise, near-infrared fiber lasers will be discussed. Next, the photothermal system that integrates a compact fiber laser with a tunable mid-infrared quantum cascade laser as a robust table-top measurement system will be introduced. The imaging contrast relies on absorption of the mid-infrared pump laser from vibrational normal modes which induces thermal changes in the refractive index that are measured with the probe laser. With scaling of the pump power a nonlinear photothermal spectroscopy regime promises a novel multi-dimensional characterization method for materials with enhanced sensitivity with improved spatial resolution. Applications of the presented system can range from chemical trace to hazardous material detection, and from identification of neurodegenerative diseases based on secondary protein configurations, to remote sensing and process control.
Michelle Sander, Boston University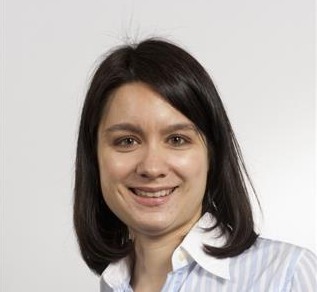 Dr. Michelle Sander is an assistant professor in the Department of Electrical and Computer Engineering at Boston University and an affiliated faculty with the Materials Science and Engineering Division. She is a member of the BU Photonics Center and the BU-BUMC Cancer Center. She received her PhD in Electrical Engineering from the Massachusetts Institute of Technology in the Optics and Quantum Electronics Group with Prof. Erich Ippen and Prof. Franz Kaertner. Previously, she received a German Diploma degree in Electrical Engineering and a Master of Science degree from the Georgia Institute of Technology. Her research interest include the development of compact novel ultrafast fiber with applications for micromachining, vibrational spectroscopy and biomedical imaging.>
Reservations:
Dinner & Meeting reservations must be made by 6 PM, Monday March 13, 2017. We can no longer accept dinner reservations after this cutoff.
Meeting-Only registrations are appreciated by March 15, 2017 the day before the meeting. Walk-ins are acceptable for the meeting-only.
Please make online reservations via the "Click to signup" button above.
Reservations may also be left on the answering machine at (617) 454-4693. We no longer have an email address for reservations due to SPAM.
When making reservation requests, please provide the following information:
DINNER AND MEETING or meeting only
Name(s) and membership status
Daytime phone number where you can be reached (in case of change or cancellation)
Location:
Rebeccas Cafe (Located in back of the office complex)
275 Grove Street
Auburndale, MA 02466
(617) 454-4693
Networking—5:45 PM, Dinner—6:45, Meeting—7:30 PM.
Menu:
Vegetarian option available on request
Dinner Prices:
Register on/before
DINNER Reservation Date
Late Reservations
Based on Availability
NES/OSA Members and their guests
$30.00 each
$35.00
Non-members
$35.00 (See NOTE Below)
$40.00
Students
$5.00
$5.00
Post-Docs
$15.00
$15.00
NOTE: The NES/OSA has not changed dinner prices in several years but has been facing higher costs. We have increased the cost of dinner by $5 this year. We will try to accommodate late reservations but cannot not guarantee that a meal will be available.
General Information on NES/OSA Meetings
Cancellations and No-shows:
If the meeting must be cancelled for any reason, we will try to call you at the phone number you leave with your reservation. Official notice of cancellation will be on our answering machine.
We have to pay for the dinners reserved as of the Tuesday before the meeting, so no-shows eat into our cash reserve. If you will not be able to attend, please let us know as early as possible. Otherwise, no-shows will be billed.
Membership Rates:
| | |
| --- | --- |
| Regular members | $15.00 |
| Student members | free |
NOTE: The extra $5.00 of the non-member dinner fee can be used toward membership dues if the nonmember joins and pays dues for the current year at the meeting.