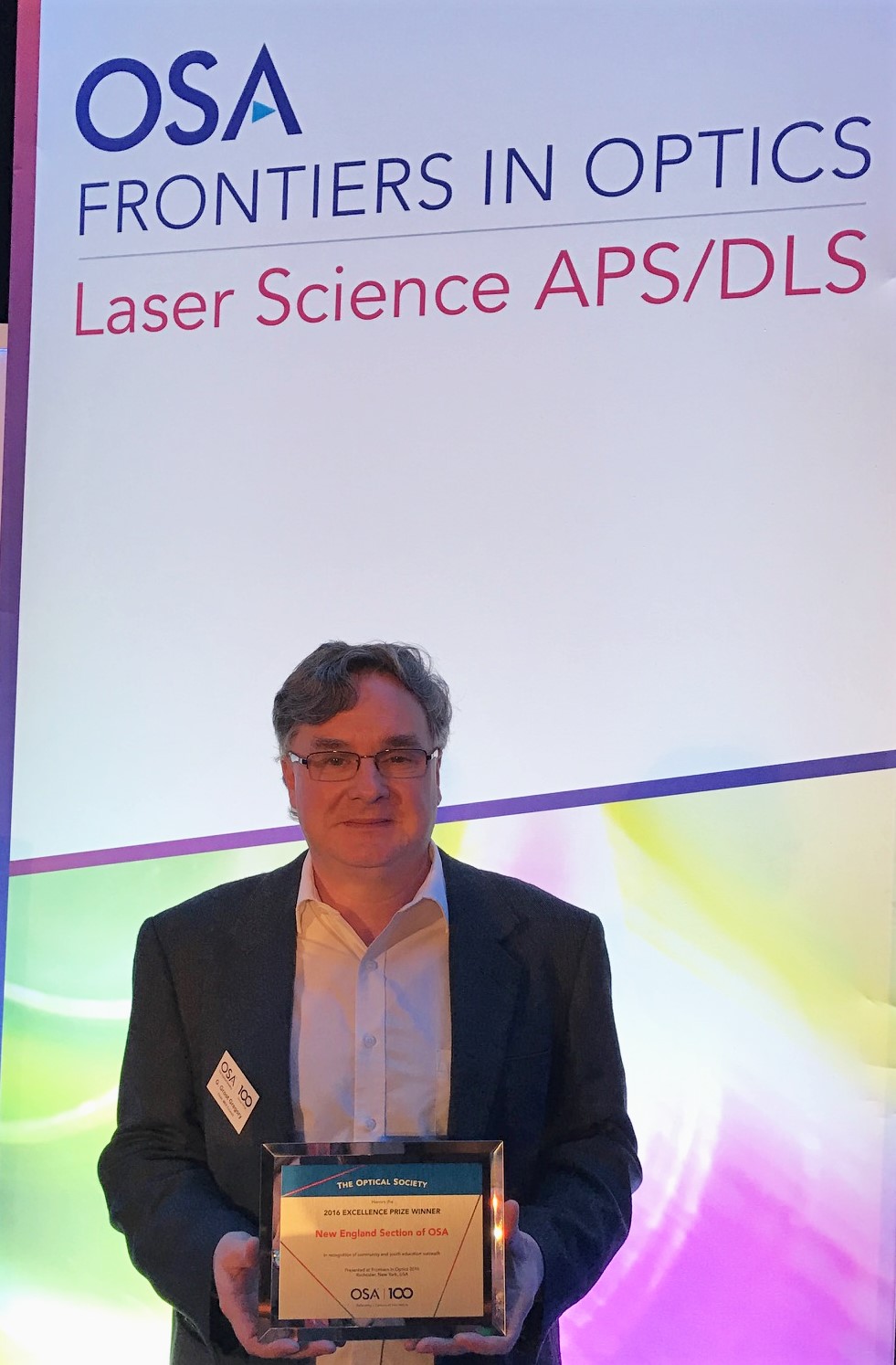 The Optical Society (OSA) awarded the New England Section an Excellence Award for its 2016 educational outreach activities. The award was presented in Rochester at the OSA Frontiers in Optics meeting during the Oct 19th plenary session.
Each year the NES/OSA participates in several outreach events to demonstrate the role optics plays in everyday life. Sharing knowledge of optics applications has been an ongoing effort since the mid-1970s evolving over time. Our current approach is to join public STEM EXPOs and Science Fairs. Massachusetts has a statewide system of science fairs split into six regions. Each region hosts middle and high school fairs with winners eligible to compete in the annual statewide fairs. The local section provides funding to each fair to cover overhead and prizes, and attended 3 fairs with optics demonstrations. In addition to science fairs in the 2015-2016 period we attended the Cambridge Science festival as described along with the NSF IYL "Wonders of Light" at the Smithsonian, the Girl Scouts STEM Expo, partnered with SWE and Boston Big Sisters "Big for a Day", Cabot Elementary "Invention Invasion", Newton Free Library "STEAM Expo", and have NES/OSA members working with the MetroWest STEM Educational Network supporting formal education programs in Massachusetts. The total addressable audience for the past year was over 25,000 students and parents with direct connections of over 1500 individuals.
NES/OSA allocated $3400 for science fair support splitting the money between the regional fairs ($900), the two statewide fairs ($2000) and an allocation of funds for new and improved demonstrations including giveaways to attendees. The OSA provided $1700 through an OSA Centennial grant.